| | |
| --- | --- |
| 08 July 2015 | Keeping a Patio Clean |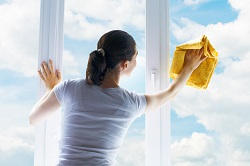 Part of your house clean should include the outside area, and in particular the patio. Though it is an area that can often be forgotten about, it is essential you pay some attention to it from time to time. Whether you have a huge garden or a small courtyard you will likely have a paved area to use when the weather is nice. Patios can be either paved or decked but regardless of what material it is made from they do need to be regularly cleaned to keep in tip top condition for your use when the sun shines.
General patio cleaning includes:
One of the first parts of your cleaning ritual outdoors should be keeping it free of weeds, leaves and dust. Weeds can appear if the space between the paving slabs are fairly big, so keep on top of them and remove them as you spot them as leave them to get out of hand. Invest in weed killer or a product that will keep them under control. There is nothing worst then having weeds growing amid the paving slabs. You could bribe younger children with pocket money to help, and in doing so introduce them to work outdoors.
When you have the weeds under control, you will need to give it a good sweep. Use a hard brush to sweep up the weeds, dust and leaves that may be cluttering the area. If you have garden furniture make sure you move it out of the way so you can get the entire area swept of grit and dust. After you have finished you can access the situation of the slabs. You may have some that are broken and this can look messy and spoilt the entire look of the whole patio area. If you can replace them this is the cheapest solution rather than having a complete new patio installed. Sometimes just replacing the broken ones means you can get away with a similar shade and if you have table and chairs they can sometimes hide the different shades. Otherwise it can be costly doing a complete overall.
If you patio is intact it may only need a good clean to remove mud and spillages. You can either use a mild detergent and soapy water and a hard brush, along with some hard scrubbing to give them a good clean. If you have some tough stains you could invest in some harsher chemicals specially designed to clean the paving slabs, just make sure you read the instructions carefully.
Or for a through and faster job use a pressure washer. Either invest in one and buy one from a local DIY shop, or rent one from a hire center. Try to get a good make as cheap ones will not work as effective as the more expensive ones. Bear in mind they can be sued for other cleaning purposes so are a good investment in the long term. These are great tools and can really get rid of the dirt that may have built up on the slabs. Though make sure you wear old clothes and cover walls with plastic sheets as the dirt will go everywhere with the pressure of the water.
If you have a decked patio area, it should ideally be set off the ground and so now weeds should be able to grow. But, you still need to keep it clean by regular sweeping. You may need to keep it stained with a varnish or coating to keep it protected from harsh weather and looking good for longer.


You may also like: