For Chiswick Landlords and Tenants, We Give You Quality and Affordable W4 End of Tenancy Cleaning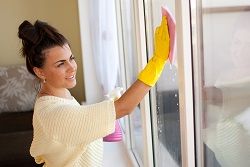 No matter how good a relationship you have with your landlord, it can still be a worry when you're coming to the end of your lease and you're wanting, needing, your deposit back. The best way to go about it, is to make sure you have fulfilled the terms of your tenancy agreement. This can include leaving your property in an excellent clean state and the best way to go about that, is to hire the end of tenancy cleaning service from Chiswick Cleaners. What makes our Chiswick end of lease or end of tenancy cleaning service so much better than those offered by other companies is our combination of reliability, great cleaning and a fantastic low price. You can find out how low our prices are when you call our phone line on 020 3743 8556. We'll also supply you with all the information you need about our end of tenancy cleaning as well as our great prices.
Professional End of Tenancy Cleaners in Chiswick
As a professional Chiswick cleaning firm which has provided a range of top quality cleaning services to the tenants, home-owners and businesses of Chiswick over many years, you can rely on us for great service. It's certainly the case with our end of tenancy cleaning Chiswick. That's because with end of lease cleaning we know everything has to be immaculate. Our superb W4 end of tenancy cleaners make sure of that. We go through your house or apartment room by room clinically, thoroughly cleaning each room, so its looking at its very best. It's not just appearance that matters of course. Our service is a deep clean service where your landlord will be delighted with the level of cleaning we have carried out. For this service, we also make a point of keeping our prices low because we know that, otherwise, it means you're spending a large part of your deposit which defeats a large part of the purpose of this service. Of course, it's not all about getting your deposit back. It's about leaving your accommodation in a clean state and also leaving on the best of terms. As your local cleaning company in Chiswick, we'll do everything we can to help you achieve just that.
Get Our Great Deals on Tenancy Cleaning in SW4
As well as tenants, many landlords, estate agents and property developers use our service. If you're a landlord for instance and have a lot of properties in and around the borough of Chiswick, you need a cleaning service which is of the highest quality and yet is affordable enough to make it a cost-effective service to keep your cleaning costs down. Which is another reason we're made a particular commitment to keep our Chiswick end of tenancy quotes as cheap as possible for you. As for our cleaners, well, a lot of the praise we receive on a daily basis is in large part due to the professionalism, quality and reliability of our staff. This is in turn, due to our extensive training programme which helps bring you the very best cleaners London has to offer. They are also fully vetted and security cleared as you would expect from a company with our high reputation and standing within the Chiswick community. If you like, as a landlord or tenant, you can also hire our much-praised carpet cleaning service or our upholstery cleaning service. Whatever your preferences are for end of tenancy cleaning we'll provide it for you. Call Chiswick Cleaners on 020 3743 8556 and we can confirm just how much cheaper but better our W4 end of tenancy cleaning is. It really pays to know the best London end of tenancy cleaning is right here in Chiswick.